The Original Men's Salon
Not all mens salons are full-service. metro FOR MEN was the first full-service men's salon in Orange County, California. Our original menu hosted men's haircuts, color, hot lather shaves, MANicures, and shoe shining services. Today, we are still the only men's salon and spa. Our current menu still hosts all these services and more. Sadly, we no longer offer shoe-shining services. Let's explore the lost art of shoe shining and why it is now a hard-to-find service.
Our Mens Salon Story
FOR MEN Salon and Spa, formerly known as metro FOR MEN from September 2004 to July 2018. We modified the name to keep the salon up to date for the 21st Century. metro FOR MEN was known as "the grooming environment for today's man". Today, our men's salon matches our client's image with their ambition. It became apparent we needed to employ that same philosophy in the salon. Hence, the updated name and we wanted to match our image with our client's sentiment of the salon.
In the beginning, the salon had a modern old-school barber shop with a country club feel. It was a blend of a barber shop and a traditional hair salon creating the new men's salon. The new format for men's salon services became an instant hit and The Best Barber Shop in Orange County.
The New Men's Salon
As the years went on, more modern barber shops and other men's salons came on the market. The need to differentiate our upscale services became apparent and our clients desired a more exclusive full-service salon for men. FOR MEN Salon | Spa moved to an exclusive location in Lake Forest, away from traditional retail centers. Before our move, our clients were entertaining more spa-type services too, which led to the need to increase our treatment room. With this new larger space, we also increased our spa services menu offering full-body men's waxing and facials. We still employ the original standards of metro FOR MEN just improved in a masculine contemporary space exclusively for men.
Shoe Shine Once on the Menu
You may be wondering why am I writing about a service that no longer exists on our menu. It is a service I miss offering to our clients. Shoe shines in a barber shop were not a common sight in Orange County, California. Let alone any men's salon. This service was only found in airports and car washes at that time. Shoe shining was a unique service offering in our niche and a nostalgic one too. In fact, shoe shines were common in barbers shops back in the late 1930s through the 1960s. Men could go get a haircut, shave, and shoe shine for $0.30!
When we offered the lost art of shoe shining, it was not just to give shoes a high shine anymore. Shining shoes started before the 1800s when "…a mixture of soda ash, tallow, wax, and oil was used to soften and condition leather and to make 'shoes' waterproof." Shining agents were added to polish around the 1700s. Today, the request for shoe shines have declined due to the increased wear of relaxed footwear according to The Wall Street Journal and most providers of shoe shine services are now located in airports.
Mens Salon | Shoe Grooming Tip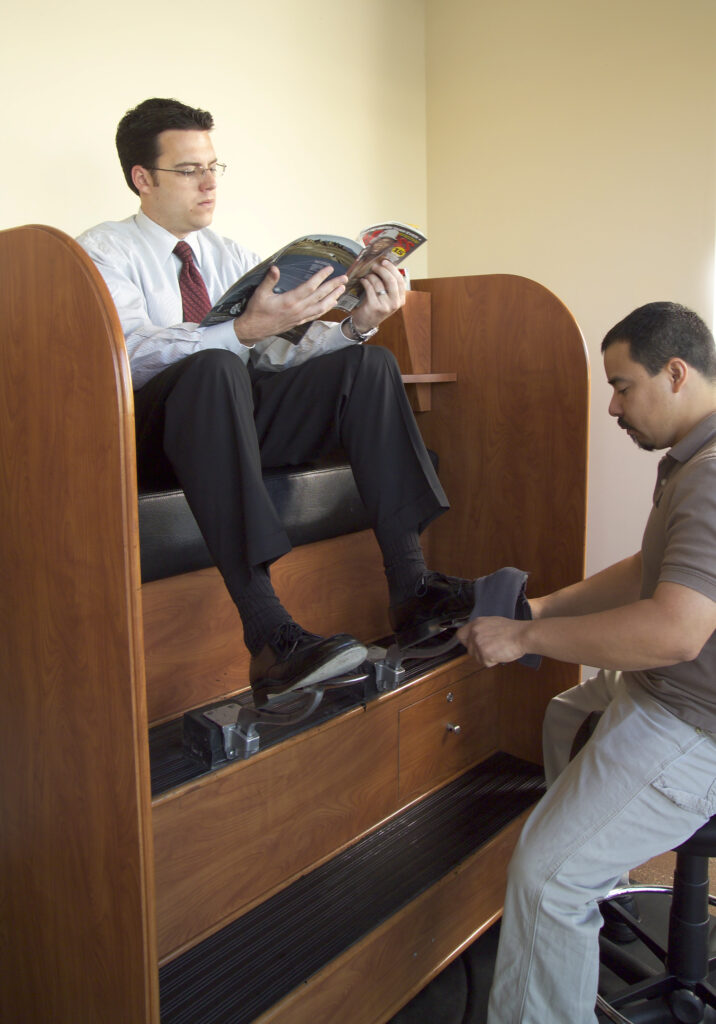 You can judge a book by its cover and a man by his shoes and we have always wanted our guests to look their best from head to toe. metro FOR MEN offered shoe shine services because it had a purpose and provided a solution to our clients. Finding solutions for our client's grooming challenges was, and is, still our No. 1 value proposition. Our shoe shines were far more than shining shoes. It was about maintaining the look of the shoe while protecting them from the weather. It also helped save our clients money from having to buy new shoes more often. Our shoe shines increased the length of wear of the shoes and kept them looking almost brand new.
Even if we no longer offer shoe shine services in our men's salon, the best tip I can give to every man is to clean, condition, and protect his shoes with frequent shoe shines. This is especially true after a good rainstorm. Leather and suede expands and contracts in hot or cold weather. If shoes are conditioned regularly, the leather and suede will not crack. Regular shoe shines will also help repel water. A good shoe shine technician will apply a layer of leather/suede protectant to ensure your shoes will not absorb water. Polishing your shoes regularly will keep your shoes looking their best for longer.