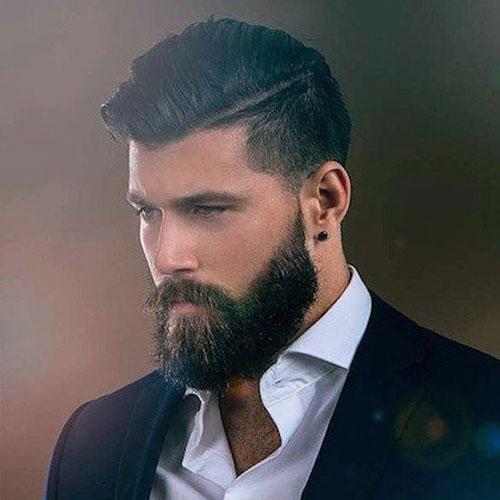 Photo Credit: The Idle Man
Keep The Skin Healthy
For your beard hair to grow thick and nourished you need to take care of the area where the hair grows. First, you should learn your skin type to determine which mens skin care products to use and the best way to keep the skin healthy. By skin type, we mean whether your skin is naturally dry oily, or sensitive. The best thing to do is talk to a metro FOR MEN salon specialists and see if they have products to create a good skin care routine for your skin type. Furthermore moisturizing daily with the right stuff is crucial to grow a great manly beard. There are millions of products out there to choose from that all claim to be the best. For the best results go for something natural such as coconut oil or shea butter. A common issue men experience when trying to grow a full beard is the skin beneath traps dead skin cells and begins to irritate the surrounding area. Natural moisturizers work to sooth the irritation which allows the beard to grow without causing roughness to the skin surface. There are loads of things that you can get to help you with this sort of thing though, you can find information here if you wish to learn more.
Let Your Hair Grow Freely
In the earlier stages of growing your beard you'll need to let the hair grow a little wild. Obtaining a great beard takes at least a month maybe more for your first time. It's understandable that you want to look your best while growing your beard but this process takes time especially for your first beard growing experience. Therefore you should avoid shaving or trimming as much as possible for the first month. Doing this will allow for you to learn how your facial hair naturally grows and get and understand what shapes the hair will take. Additionally don't let the beard itch hinder your hard work. As your hair grows thicker and longer eventually there will be an undeniable itch. That itchiness is part of the process. This is because your skin is just getting used to all that new growth and with time it will go away. You can begin to experiment with some products at this stage and might want to look into beard oil wholesale as you'll find that you will use quite a lot of this product. It should help to tame the shape somewhat and begin to soften the hair.
Clean Your Facial Hair
First things first avoid using regular bar soap on your beard because this can dry out your skin. Use shampoo and conditioner on your beard. Just like the hair on top of your head beards need to be maintained and kept healthy. You can use the same shampoo that you use for your hair but look into products specific for beards. Extra tip don't wash your beard everyday as it's better to let the natural oils nourish your hair from time to time.
Trim It Up
Finally your beard as the stage where it's time to trim it up and get the look you've been wanting. For your first time go to your stylist and see what shape would be best for you. They'll give you advice and tips to best maintain and groom. That way if you decide at some point to shave it off the next time you grow out your facial hair will be a simpler journey. Speaking of shaving, if you do decide to get rid of your new beard, why not buy a vegan shaving brush to help with the job? Some people prefer how they look without a beard and that's ok! Just make sure you buy lots of shaving cream beforehand!
Metro For Men | Beard Grooming Services CA
metro FOR MEN is the premiere full-service men's only salon…a male-exclusive masculine grooming environment where men get all of his hair nail skin and body care treatments in Orange County CA. A country club atmosphere metro FOR MEN offers a traditional shoeshine stand a private locker room and 12 personal satellite televisions with over 700 channels to catch up on the latest sports news or market updates. Our clients can read today\'s paper check out the latest gadget magazine all while counting on on-time appointments. metro FOR MEN's clients experience current techniques products designed exclusively for men all in a space that he doesn't have to share with his female counter-part. For more information about our men's salon or beard grooming services, give us a call at (949) 450-0150 or see our menu of services at https://metroformen.com/services/.