Everblade Blade Sharpener Works
OK I'm a believer.  The Everblade blade sharpener really works.  I received a call a few months back from a vendor retailing disposable razor sharpeners.  He claimed that this sharpener would keep a blade sharp for up to 6 months.  I don't know about you, but my razors may last a week before it gets corroded and rusty.  I'll admit though my razors are not the most expensive.  Skeptical, but curious, I purchased 6 of these blade sharpeners and put them on our shelves at metro FOR MEN.   I'm a huge gadget girl.  When I got them in, I couldn't figure out how these sharpeners work because all this thing was a black base with a copper strip.  All I have to do is place my razor down on the copper strip and that's it?  After a week or so this vendor called to check on our sales and I reported none :-(.  The challenge that we are having is that no one believed the technology worked.  When I expressed this to the vendor he said "no problem I'm sending you 2 to try and share your experience with your customers."  I LOVE that approach.  I love it when vendors believe so much in their product that they are willing to share it for free!  I follow that best business practice in the shop as well.  I too believe in my product so much that I have given services for free knowing that the guest would come back because metro FOR MEN is the leader in men's grooming.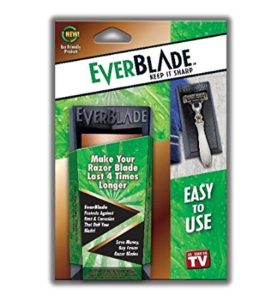 I've been using this blade sharpener now for 3 weeks and my disposable razor is as sharp as the day I got it out of the package.  There is no soap residue, no rust, and no visible grime.  What is this miracle product that saves you money?  It's an EverBlade.  Try one and you won't be disappointed.
"The EverBlade creates an energy field to repel rust and corrosion from metal blades.  
This is the leading cause of blade failure.  Reducing the build up of rust and corrosion on your blade will keep it sharp much longer than otherwise possible. 
This means the EverBlade will save you a lot of money and reduce tons of wasteful packaging."  http://www.greeneverblade.com
It's all in the copper strip.  The bonus of this product IT'S ENVIRONMENTALLY FRIENDLY…no waste.  I encourage you to try it.  The next time you come in to metro FOR MEN, ask us about the EverBlade and we will give you a demo