The Right Men's Grooming Consultation – Part 4
This blog post is the 4th of a 4 part discussing The Right Men's Grooming Consultation at metro FOR MEN. I hope all of you have enjoyed reading my 4 part consultation and will be concluding that experience with this post. The last item of my make-over consultation with my married guest was on his hands and feet. He is a nail bitter and cuts his toe nails way too short. I noticed this instantly when I shook his hand and he immediately explained he has been biting his nails for years. For nail bitters there are social effects that come from this habit and can inhibit social interaction from other people. Why? Because nail bitters hide their hands and try not to expose them. That type of interaction could send the wrong message and cause judgment. The other impacts are on the nail biters themselves, biting ones own nails can lead to the transfer of nasty bacteria from your nails to your mouth and gut, possibly leading to some health implications in the future. If you or someone you know bites their nails, looking at improving hand hygiene can improve their health too. Perhaps looking at purchasing from somewhere that stocks hygiene and health products, like this Hand Sanitizer Canada website or another similar site in varying locations, you could minimize the risk of spreading bacteria from your hands to your mouth and gut.
According to Wikipedia…"Bitten fingertips can become very sensitive to pain, usually at the place the skin meets the edge of the nail…Saliva may then redden and infect the skin. Finally it may also result in the transportation of bacteria that are buried under the surface of the nail…Nail biting is also related to dental problems, such as gingival injury and malocclusion of the anterior teeth. Be sure to attend regular appointments with your Dentist Citrus Heights if you are suffering from the above dental problems and follow the tooth care advice they give you. When the bitten-off nails are swallowed stomach problems can develop."
Cure for Nail Biting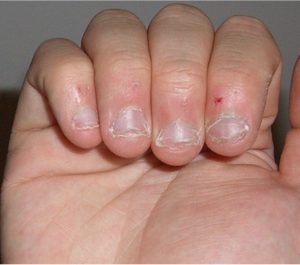 There are many cures for nail biting from topical nail treatments to behavioral therapy. My cure for nail biting is routine manicures. Routine manicures can stop nail biting because one may think about biting the nail that was recently manicured. It's a psychological thing. Routine manicures and pedicures will keep hands and feet looking and feeling great. As with any great beauty treatment, a manicure or pedicure will also make you feel great too. Not only are these services good for men, the women in their lives appreciate too. At metro FOR MEN we offer nail services for men to help maintain that perfect handshake. For the man on the run, we have an express hand detail fr only $16.00. Come in for a consultation with Claire or Erin to see how we can help you.
For my married guest, after us having the right men's grooming consultation, he now has had 2 manicures and 1 pedicure, his nails on his feet and hands are looking better, he is conscious of his nail biting habit, and is committed to continue to receive manicures and pedicures monthly. Not only has this process helped him from not hiding his hands from clients, but his wife is ecstatic for no more rough feet!